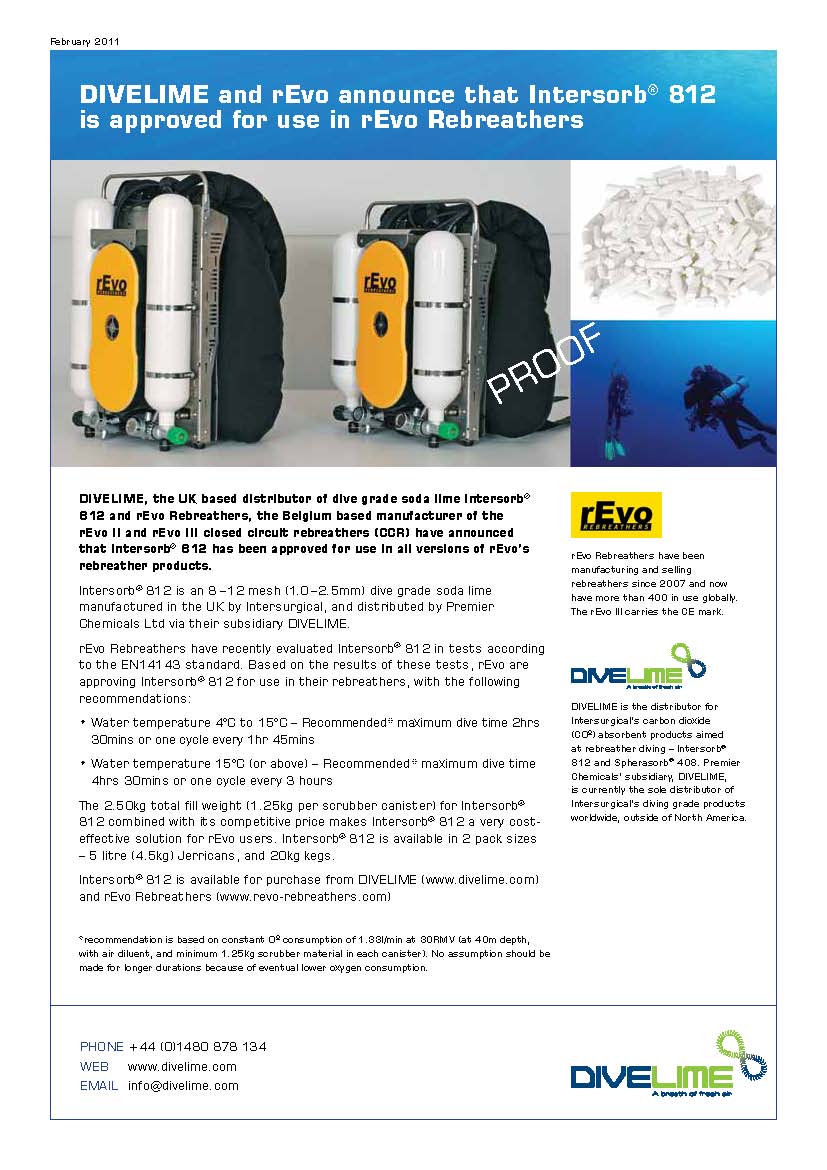 DIVELIME, the UK based distributor of dive grade soda lime Intersorb®812 and rEvo Rebreathers, the Belgium based manufacturer of the rEvo II and rEvo III closed circuit rebreathers (CCR) have announced that Intersorb® 812 has been approved for use in all versions of rEvo's rebreather products.
Intersorb® 812 is an 8 –12 mesh (1.0 –2.5mm) dive grade soda lime manufactured in the UK by Intersurgical, and distributed by Premier Chemicals Ltd via their subsidiary DIVELIME.
rEvo Rebreathers have recently evaluated Intersorb® 812 in tests according to the EN14143 standard. Based on the results of these tests, rEvo are approving Intersorb® 812 for use in their rebreathers, with the following recommendations:
• Water temperature 4°C to 15°C – Recommended* maximum dive time 2hrs 30mins or one cycle every 1hr 45mins
• Water temperature 15°C (or above) – Recommended* maximum dive time 4hrs 30mins or one cycle every 3 hours
The 2.50kg total fill weight (1.25kg per scrubber canister) for Intersorb®812 combined with its competitive price makes Intersorb® 812 a very costeffective solution for rEvo users. Intersorb® 812 is available in 2 pack sizes – 5 litre (4.5kg) Jerricans, and 20kg kegs.
Intersorb® 812 is available for purchase from DIVELIME (www.divelime.com) and rEvo Rebreathers (www.revo-rebreathers.com)
*recommendation is based on constant O2 consumption of 1.33l/min at 30RMV (at 40m depth,
with air diluent, and minimum 1.25kg scrubber material in each canister). No assumption should be
made for longer durations because of eventual lower oxygen consumption.
출처 : Intersorb 812